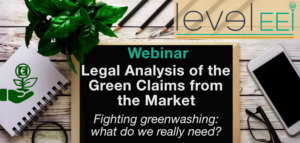 You're invited! The LEVEL EEI team welcomes financial institutions, regulators and members of civil society to their key workshop on green impact claims from the market.
Join us Friday 8 July 2022 from 10:30 to 12:00 to discuss our findings.
The LEVEL EEI consortium reviewed the legislative and regulatory framework applicable to environmental impact statements in the finance sector and proposes concrete actions to fight greenwashing more efficiently. Through our work, we demonstrate that the current framework is neither clear nor sufficient and is therefore not effective in meeting financial 'green claims'. 
Moreover, the lack of effective protection against "impact washing" in the financial sector is one of several legislative gaps that prevent effective regulatory oversight and investor redress.
Explore our 5 key recommendations to improve the EU legislative and regulatory framework for green and impact investments in our analysis "Fighting greenwashing… What do we really need?".
Speakers: Samia Baadj & David Cooke, 2Dii
Watch the Recording